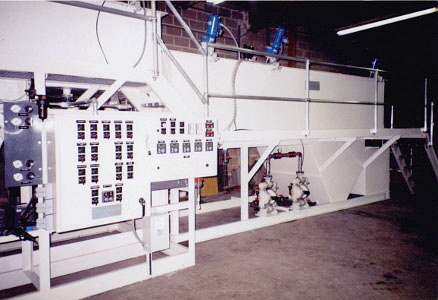 Clari-Pac G clarifiers are used for gravity separation of settlable solids in wastewater where space is at a premium or is the process equipment of choice. Whether known as inclined plate clarifiers, plate settlers or tube settlers, a Clari-Pac G clarifier multiplies (stacks) its smaller footprint to provide the necessary surface area to satisfy the required surface loading rate (settling rate) for effective solids separation. Inclined stacked plates or tubes are used commonly for this purpose. With an angle of inclination of about 60 degrees, settled solids are automatically sloughed off and are collected in a hopper shaped trough below. Influent feed flow is distributed upwards and uniformly through the media in a counter-current pattern.

The Tenco Hydro Clari-Pac G clarifier typically utilizes a triangular cross-section thermoplastic tubular media molded in modular packs and contained in removable stainless steel frames. Other units using parallel plates have also been supplied. Media volume is determined by the feed flow and appropriate design settling rate.

For optimum performance, the wastewater may require chemical conditioning and flocculation. The necessary mixing compartments are usually integrally fabricated with the clarifier. Chemical feed equipment, instrumentation, controls and sludge transfer pumps are preassembled for a complete process module. Optional sludge screw conveyors are offered for larger flow modules.